Naseer Burgess or known popularly known as Nas Ebk is an American artist and rapper who was born on July 2, 2003, in the Bronx, New York. Nas Ebk's real name was unknown for a while when he started making videos.
Who is Nas Ebk?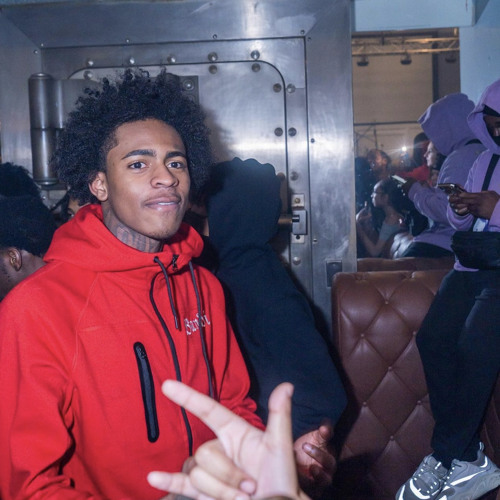 Nas Ebk grew up in one of the rougher neighborhoods in the Bronx. The rapper was put in the juvenile justice system in 2015 for his delinquent behavior.
Rapper Ebk got out of the system at the age of sixteen in 2019. In an interview, Nas Ebk revealed that he always wanted to be a basketball player but life didn't go as planned.
The rapper started taking interest in music when he was fourteen years old. He started his musical career when he released his first single titled "Bunny In The Box" on June 4, 2021.
The rapper has released a total of six rap songs since then. Nas Ebk is currently dating his girlfriend Jada Kingdom.
Who is Nas Ebk dating in 2023?
The 19-year-old rapper has been in the news since he started dropping his music. His relationship with the model and singer Jada Kingdom grabbed enough attention.
Ebk officially started dating Jada on June 26, 2022. The couple celebrated the day with a trip to Antigua.
Nas Ebk and Jada often gift each other luxurious things and post videos on their Instagram handles. The couple committed to each other for monogamy when Nas Ebk surprised Jada on her birthday by giving her a promise ring.
Similarly, Jada gifted rapper Ebk a diamond-encrusted Cartier watch on his 19th birthday. Jada posted the video of her gifting him the watch and saying she loved him on her Instagram.
Who is Nas Ebk's Girlfriend, Jada Kingdom?
Nas Ebk has been dating Jada Kingdom since June 2022. The couple is repeatedly seen showering each other with lavish gifts.
Jada Kingdom is twenty-four years old R&B singer and model of Jamaican descent. She rose to fame after her appearance in the music video for Sean Kingston's "One Way".
Jada Kingdom's real name is Jada Ashanti Murphy. She chose to forsake her surname and uses Kingdom as her stage name.
In one of her Instagram live, Jada revealed that she was diagnosed with bipolar disorder in 2016. The singer further disclosed that she was raped and sexually assaulted at the age of fourteen.
Jada alleged that her bipolar disorder and passive aggression stem from her trauma. The 24-year-old singer voiced out her opinions that women's body is their own kingdom.
Since then, Jada continuously raises awareness against sexual assault through her social media sites.
She often talks about how her trauma has shaped her artistic abilities. Jada and her boyfriend, Nas Ebk are often seen to be traveling together