La La Anthony was a radio DJ and cosmetics artist before becoming a prominent television persona. So what's the deal with her looks? Many speculate that La La went under the knife for a nose operation and breast augmentation.
Although she hasn't confirmed the reports, she is still a thriving entrepreneur who is slaughtering the game.
La La Anthony
Early Life
Born on 25th June 1979, Alani Nicole La La Anthony is a television personality, actress, and entrepreneur from the United States. She is a proud New Yorker, having been born and raised in the city.
Her family history is as diverse as the city itself. La La has stated that she hails from Afro-Puerto Ricans, emphasizing her background and the city's unique cultural tapestry. She has a younger brother, Christian, and two younger sisters, Avian and Solana. As a child, she was active in a range of hobbies, but the music was her heart.
Education
She even went to Howard University to pursue communications, but she never graduated. But it's not a huge deal since she went on to become a radio DJ, TV personality, and actor, proving to the world that she has significant skill and determination.
Her fans adore La La and continue to create waves in the entertainment business due to her cheerful attitude and contagious energy.
Career
La La is a tremendous force to be reckoned with! She began her radio career at the age of 15, presenting Future Flavas alongside the legendary Ludacris himself while still attending high school. She then relocated to Los Angeles, where she co-hosted The B-Syde on 92.3 The Beat.
Yet it was just the start of her journey. La La went on to co-host Direct Effect and Total Request Live on MTV before quitting in 2003 to produce the documentary Tyson and collaborate on a major project with Brett Ratner.
She's also built a reputation for herself in the entertainment industry, having appeared in films such as Two Can Play That Game, Think Like a Man, and Baggage Claim, as well as programs such as "NYC 22" and Single Women. She was even in an off-Broadway production of Love, Loss, and What I Wore.
The actress and TV persona also executive produced and featured in the documentary La La's Full Court Wedding, which covered her marriage ceremony to NBA player Carmelo Anthony. She's additionally established her own cosmetics and apparel businesses, as well as authored many books.
Love Life
Anthony was married to basketball star Carmelo Anthony in 2010, and their wedding was shown on the reality program La La's Full Court Wedding.
The couple had a kid in 2007 named Kiyan Carmelo Anthony, and their lives together were documented on their reality show, La La's Full Court Life. Nevertheless, the couple divorced in 2021.
La La Anthony: Plastic Surgery
Lala's cosmetic surgery, notably on her nose and buttocks, has been the subject of gossip. There's no doubt that she is a great cosmetics wizard.
She knows how to use her brushes to quickly transform her face. But, some people are questioning whether her nose has also experienced a supernatural makeover.
Although Lala has denied having a nose job, some people believe the nose on the right side of her face is smaller and more pronounced than the nose on the left. Was it magic or a surgeon's scalpel she used?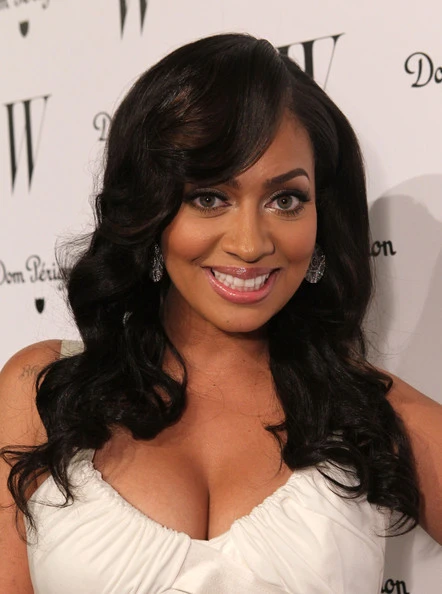 And when it comes to her butt, it's been the talk of the town. Although her breasts appear to be natural, others suspect that her backside might have undergone a little lift to improve its curves.
In fact, Lala was known to have expertise in butt enlargement and had even produced a documentary on illegal plastic surgeries. But who knows? Maybe she's been making an awful lot of squats and lunges at the gym. In any case, no confirmed information of La La undergoing cosmetic surgery has been revealed.
La La Anthony Quick Facts
| | |
| --- | --- |
| Full Name | Alani Nicole La La Anthony |
| Birthdate | June 25, 1979 |
| Age | 43 years old |
| Birthplace | Brooklyn, New York, United States |
| Occupation | Actress, TV personality, producer, author |
| Height | 5 feet 6 inches |
| Weight | Around 74 kg |
| Spouse | Carmelo Anthony (m. 2010 – d. 2021) |
| Children | Kiyan Carmelo Anthony |
| Notable works | Power, Think Like a Man, Two Can Play That Game |
| Net worth | 120 million USD |