American singer, Joan Jett, is noted for her rock, and punk rock genres. The frontwoman of Joan Jett and the Blackhearts band has been on her professional musical journey since 1975.
While associated with the Blackhearts, she released her version of "I Love Rock 'n Roll" which was listed number-one on the Billboard Hot 100 for several weeks in 1982.
With her mezzo-soprano vocal, the 64-year-old singer has succeeded to win the hearts of millions. Alongside prestige, Joan has been making notable earnings as a successful musician.
Joan Jett Net Worth: How Much Does The Singer Have?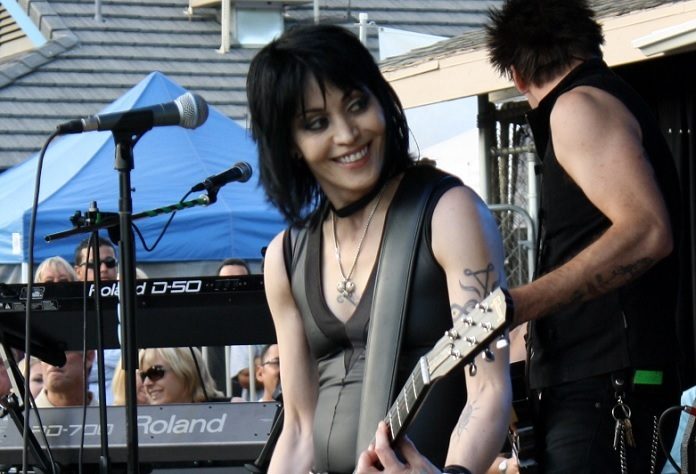 As per CELEBRITY NET WORTH, Joan Jett makes a net worth of $10 million from her musical career. She has been in the entertainment industry for more than four decades and deserves to have a fortunate income.
Jett's popular releases are Album (1983) and Glorious Results of a Misspent Youth (1984).
Then, a succession of Top 40 hits subsequently thereafter, and sellout musical tours with a British band named Queen, Boston-based rock band Aerosmith, and English band, The Police
Her major hits are "I Hate Myself for Loving You," "Bad Reputation," and "Light of Day." She also covered "Crimson and Clovers, "Dirty Deeds," and "Do You Wanna Touch Me (Oh Yeah)."
Joan Jett Tattoos Meanings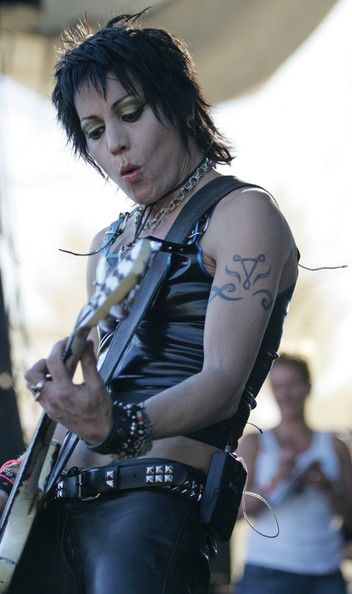 Bold and brave Joan Jett is also well-known for her tattoos. She has inked six tattoos on her whole body; they all deliver special meanings. Her first tattoo was inked at 16, which is of a fighter jet diving down on her left thigh; it was due to her last name.
Jett inked OM tattoo, denoting the Hindu symbol, on the backside of her neck that signifies the sounds of the universe and offers peace.
Another one, she has a triangle-shaped tattoo with a loop inked on each side. Just under it is an artwork of a bracelet on her upper left arm consisting of a pair of intersecting lines with dots in the middle.
The former Runaways musician described her tattoo as "a figure 8 armband on her left and a triangle with loops and swoops above the figure 8 armband."
On her back, she has two crossed Axes encircled by flame tattoos, which are apparently Greek double-edged swords, and Labryses.
The singer has also inked a spiral pattern tattoo with light coming out from it, representing unmanifest thoughts or consciousness at rest, with the waves emanating as potential. Likewise, Jett's chest also has a swirl artwork in a V shape, which portrays an ethereal presence within her.
Hairstyle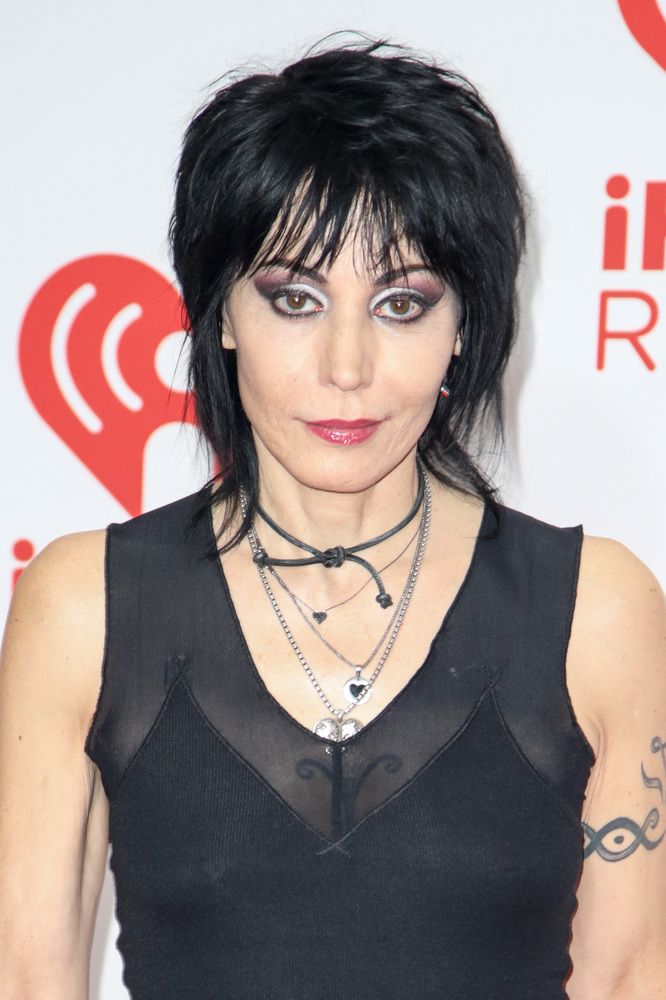 Joan Jett has a unique hairstyle that defines her own identity. She has banged long hair (borderline mullet), which influenced wannabe rebels in the 1970s. Many other renowned personalities are still recreating the hairdo.
Height
Joan Jett stands stunning with a 5feet 5-inch tall (approximately 167.64 centimeters). The singer weighs about 55 kilograms i.e. 121. 25 lbs.3 and her full body measurement is 2-24-33 inches.
Some Interesting Facts
| | |
| --- | --- |
| Full Name | Joan Marie Larkin |
| Age | 64 years old |
| Birth Place | 22 September 1958 |
| Place of birth | Wynnewood, Pennsylvania |
| Nationality | American |
| Parents | James and Dorothy Larkin |
| Profession | Musician, singer, and record producer |
| Height | 5ft 5 inches (167.64 centimeters) |
| Weight | 55 kilograms |
| Measurements | 32-24-33 inches |
| Net Worth | $10 million |