Jenna Ortega is a true entertainment industry celebrity, having appeared in successful TV programs like "Wednesday," "Jane the Virgin," and "Stuck in the Middle," as well as big-budget films like "Iron Man 3" and "The Fallout." She has previously earned prizes for her exceptional abilities and is passionate about bringing more Latinx voices to the screen. Jenna is clearly a force to be reckoned with. Meet Jenna Ortega's Family; facts about her parents and siblings.
Who is Jenna Ortega?
Jenna Ortega is an acclaimed American actress who has achieved success in both television and movies. She has starred in many successful TV programs, including "Wednesday," "Jane the Virgin," "Stuck in the Middle," and "You."
Jenna has shown her outstanding acting abilities in these series, bringing to life a range of characters with diverse personalities and backgrounds. Jenna's skill hasn't gone unnoticed; she's garnered nominations and prizes for her work, including a Young Artist Award for her appearance in the TV series "Stuck in the Middle."
Jenna has grown into a notable figure in the entertainment world for her activism for Latinx representation on television, in addition to her acting. She has been outspoken on the need for greater diversity and inclusion, especially in the Latinx community, and has utilized her position to raise awareness of the problem.
Jenna Ortega Parents
Jenna Ortega came into this world on 27th September 2002. Her mother's name is Natalie Ortega, an emergency nurse, and she is of Puerto Rican and Mexican ancestry. Her father, Edward A. Ortega, is Mexican-American and is a businessman.
Born and raised in Southern California's Coachella Valley, Jenna grew up in a huge family with five siblings. She has two brothers Isaac Ortega, her eldest brother (born in 1998), and youngest, Markus Ortega (born in 2004).
5 Siblings: 3 Sisters and Two Brothers
She also has three sisters Mariah Ortega (born in 1999), Mia Ortega (born in 2000), and Aliyah Ortega (born in 2004), who is the youngest along with her twin, Markus. Born in 2002, she is the middle child, and she shared that she actually loves being one.
The Wednesday star bluntly denies the misconceptions about a middle child. She stated that her younger and older siblings and sisters feel comfortable confiding in her.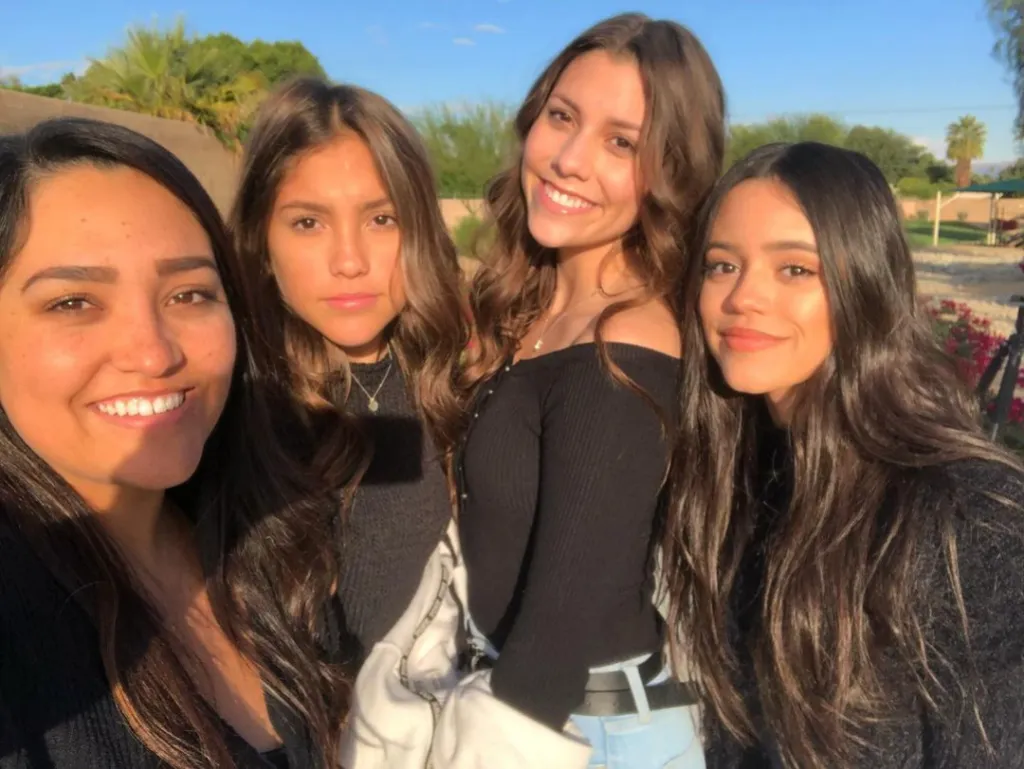 And if someone is not able to attend a function, it is generally the middle kid, which makes the parents feel bad and motivates them to attempt to compensate in other forms.
On average, kids get off with much more. Her family has consistently been encouraging of her profession, and she has described her mother as a significant source and motivation to her.
Jenna additionally stated that her family's Latinx origin had had an impact on her character and career paths.
Quick Facts
| | |
| --- | --- |
| Full Name | Jenna Marie Ortega |
| Date of Birth | September 27, 2002 |
| Place of Birth | Coachella Valley, California, USA |
| Nationality | American |
| Ethnicity | Puerto Rican and Mexican |
| Occupation | Actress |
| Height | 5 feet 1 inch |
| Weight | 46 kg |
| Parents | Father: Nathan Ortega, Mother: Natalie Ortega |
| Siblings | Mia Ortega (sister), Markus Ortega (brother), Isaac Ortega (brother), Aaliyah Ortega (sister), Mariah Ortega (sister) |
| Net Worth | $3 million |