Christina Tosi is a well-known television personality and chef. Born in 1981, the 41-year-old gained fame as a judge on the competitive cooking show MasterChef. However, her sudden exit from the show has left everyone curious. In this article, we'll talk about her Masterchef journey, husband, and net worth.
Christina Tosi on Masterchef
Ohio native Christina Tosi is a celebrated name in the culinary world. Formerly, she was on the judging panel of FOX's MasterChef for three seasons. She initially joined the team during its sixth season in 2015. Then, she also served on MasterChef Junior (season 4), which aired on 6 November 2015.
As a judge of the show, she performed as the right-hand lady while judging. The lady holds similar high standards as Judge Gordon Ramsay; however, she possesses her own limits when needed.
During her interview with the magazine Lucky Peach, the CEO of bakery chain Milk Bar talked about her Masterchef role, mentioning that some of their footage from the show has been cut off.
She also cleared that things aren't at all like what they seem to be, and when the panelist shouted, "Time's up!" participants don't hurry to be judged.
Why did Christina Tosi leave Masterchef?
On 27 July 2010, the cooking show, Masterchef, started premiering on FOX Network. Now, the show is all set to premiere its thirteenth season with judges Gordon Ramsay, Aaron Sanchez, and Joe Bastianich.
Before, Christina Tosi had also served as a judge on Masterchef for three seasons (2015 to 2018). The lady left the show when Joe Bastianich rejoined the team as a permanent judge for its ninth installment.
According to Tosi, she first had the opportunity to be the judge of the show during a drive when she was called by her agent inquiring if she would join the team of MasterChef.
As she was already a huge admirer of the culinary show, it took her time to accept the idea of going from loving watching it to loving being a panelist in it.
After Joe's exit from season five, Toshi was appointed as the replacement judge on MasterChef. During that time, Bastianich has shared that after being on the show for several years, he has chosen not to return.
As he decided to return as a permanent judge at the start of season 9, Tosi said goodbye to the show.
Husband Will Guidara and Kids
MasterChef judge Christina Tosi is blissfully married to her husband, Will Guidara. The beautiful couple got married at the Cedar Lakes Estate in Port Jervis, New York, on 30 July 2016.
Will is a New York City-based restaurateur who currently serves as the founder of The Welcome Conference. Also, he is a member of the Independent Restaurant Coalition.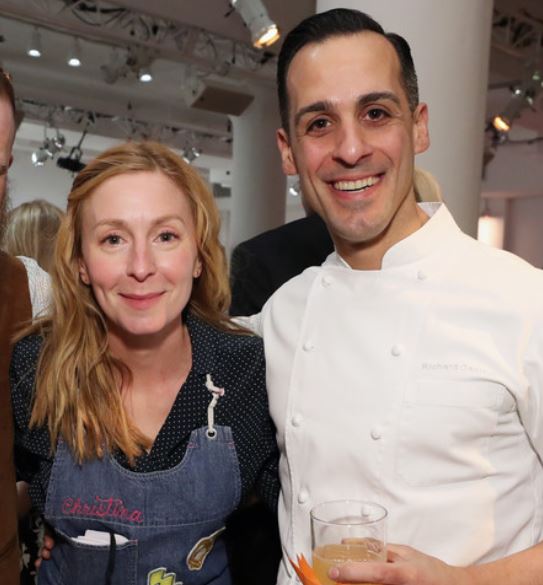 Both Christina and Will share a common interest which is cooking-related and food. While the two served in the same field, they initially met through work.
Now, Tosi and Guidara have a baby girl together. The couple welcomed their child Frankie in March 2021.
Christina often uploads pictures of her on IG; she recently posted a lovely snap that shows Frankie's first dance with her mom and dad. The celebrity pair also has a pet dog, Butter in their family.
Net Worth
Per the report of Celebrity Net Worth, Christina Tosi has a net worth of $1 million. She has been making handsome wealth as a celebrity chef. At the same time, she is the CEO of a chain restaurant named Milk Bar, which has branches in Washington, New York City, Las Vegas, Washington D.C., and Bellevue.
Tosi's salary as a judge of the popular cooking show MasterChef was $225,000 per episode. Besides that, she was also part of the series Bake Squad, which was released on Netflix.
In 2014, Food & Wine magazine named her on the list of "Most Innovative Women in Food and Drink." Similarly, she was honored with James Beard Foundation awards twice. Nevertheless, she has introduced several cookbooks which are doing well in marketing.
Her cookbook, Momofuku Milk Bar (2011), contains recipes from the restaurant and it was published by the Crown Publishing Group. Likewise, Publishers Weekly described her Dessert Can Save the World (2022)  as a clumpy mix of memoir and self-help.
Quick Facts Of Christina Tosi:
Full Name
Christina Tosi
Age
41 years old
Place of birth
Ohio, United States
Profession
Chef, businesswoman, and cookbook author
Education
James Madison University

French Culinary Institute

Husband
Will Guidara
Children
two