Arizona native Chris Bianco is a renowned name in the culinary world. With his exceptional pizza-making skills, he succeeded in establishing his own eateries, including Pizzeria Bianco and Bar Bianco.
In September 2022, Bianco was featured in the hit series titled Chef's Table: Pizza on Netflix, which helped his business grow even more. So, how much net worth does the chef have from his culinary career?
Chris Bianco Net Worth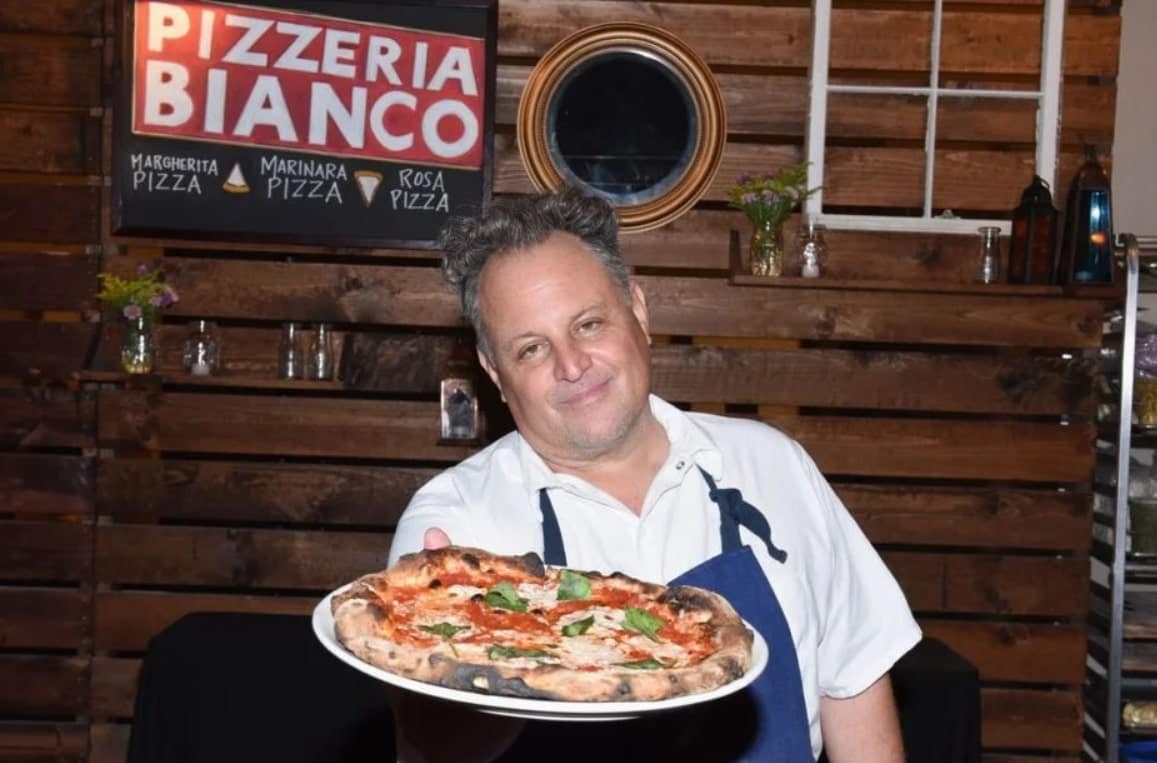 As of 2023, Chris Bianco has approximately around $10 million net worth. His main source of earnings is from his business ventures.
Growing up, Bianco learned cooking from his aunt; the skills later helped him to get a job at a local pizzeria at age 13.  Then, he also worked as a chef in Italy. His years of struggle and hard work are now paying him well.
Passionate about pizza making, he initially used to sell homemade mozzarella to Italian restaurants. After a while, he was noticed by a specialty grocer, Guy Coscos, who gave him a job baking and selling pizzas in the store's corner.
Soon, his pizza got immense popularity among the people of the town. Then, he started his first pizza shop in Arizona. Currently, he has five eateries in the United States.
In 2000, he was first nominated for a James Beard Award nomination. However,  he succeeded in earning the James Beard Award in 2003 after receiving the Best Chef Southwest title.
Last year, the James Beard Foundation listed him as the Outstanding Restaurateur.
Name Of Chris Bianco Restaurants & Their Location
●     Pizzeria Bianco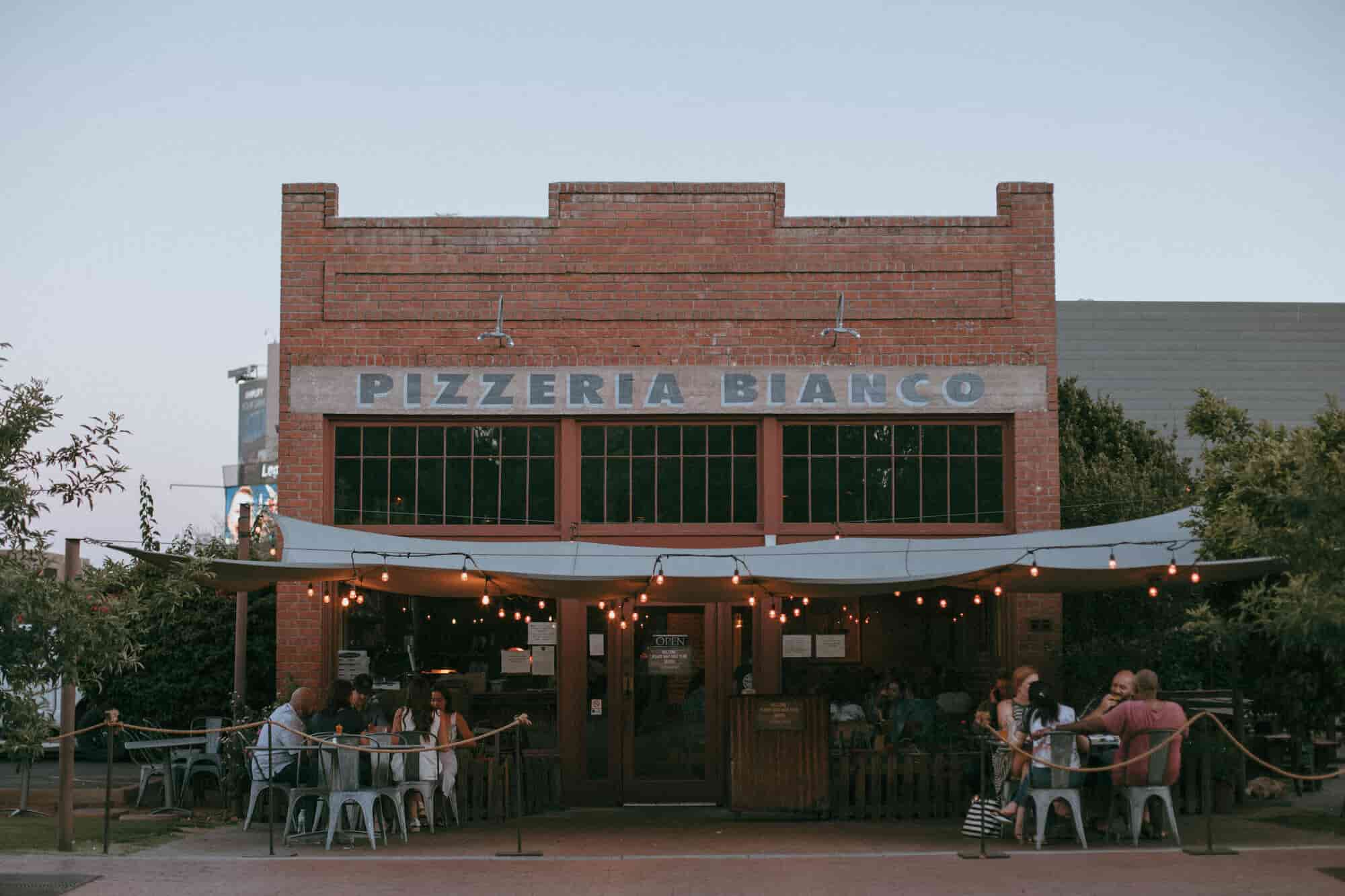 Chris Bianco is the man behind the famous pizza restaurant, Pizzeria Bianco. In 1987, he originally started the business in a grocery store which is currently AJ's Euro-Market & Deli situated in central Phoenix.
Pizzeria Bianco is a small restaurant having up to 42 seating capacity. They only accept bookings for groups of 6-10 people. Several food magazines like  Andrew Zimmern, Bon Appétit, Vogue, and Rachael Ray have rated their pizza as the best.
In 1996, the eatery relocated to 623 East Adams Street, the old Baird Machine store in Heritage Square. In 2013, it started at a second location in the Biltmore Area, Phoenix.  Chris has also set up a branch of  Pizzeria Bianco in Los Angeles, California, in 2022.
●     TRATTO
Chef Bianco's other popular restaurant is Tratto, which is operating business at 1505 E Van Buren St, Phoenix, Arizona 85006.
In Tratto, they take reservations for parties of 2 to 10 people. In case anyone needs to book for parties of 6 or more, they can directly call on their number:  602-296-7761.
●     BAR BIANCO
Bar Bianco is an extension of Pizzeria Bianco by Chris Bianco, located at Heritage Square in Phoenix, AZ. They serve house-made bar foods, craft beers, artisanal spirits, fine wines, and fresh cocktails.
The bar is a fantastic spot to catch up with buddies while you wait for a meal at the pizzeria. One can book this beautiful place for private events through their official page https://www.pizzeriabianco.com/events
●     PANE BIANCO
In 2005, Pane Bianco was established by Chris Bianco. It is located about four miles away from the original location of Pizzeria Bianco.
The eatery is known for its fantastic lunch like slices from their 18" NY-style pies, split focaccia sandwiches, salads, and many others.
Chris expanded Pane from a takeaway sandwich store to a complete-service restaurant in 2012, adding a wonderful new dining room. It offers wine and beers that are produced from local resources.
Some Facts About Chris Bianco
| | |
| --- | --- |
| Full Name | Chris Bianco |
| Age (as of 2023) | 63 years old |
| Birth date | 1960 |
| Place of birth | The Bronx, New York |
| Nationality | American |
| Profession | Chef and restaurateur |
| Spouse | Mia Bianco |
| Children | Three (Nia, Eva, and Leo) |
| Net worth | $10 million |